Hire Us for the Perfect Garden Waste Removal in Wembley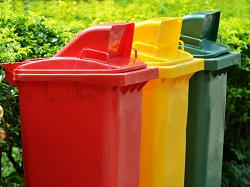 A garden should be an idyllic and calm place. It should be attractive, full of nature and life, and be somewhere you can enjoy spending time. This can all be ruined though if your garden is messy and cluttered. If you have stones, leaves, twigs, and other debris scattered around, along with old items such as benches, umbrellas, barbecues and anything you store there, it will destroy the atmosphere and ruin the appearance of the entire garden. If you want to remove such items, then you are in luck, because we at Rubbish Removal Wembley can help. We are an expert Wembley garden waste removal firm that can assist with every aspect of the chore and provide the perfect results.
Taking Steps to a Cleaner Garden with Wembley Garden Waste Clearance
Our expert garden clearance support in HA0 will be the best solution to any waste in your garden. Call

now to learn all about us and how we help you. We have a team of experts at the ready who can be deployed to your address in HA9. Our team will be able to help you with your garden goods, from sorting things, brushing stuff up, to bagging loose bits and parts, breaking up larger items and more. They can carry away large items from your property easily and safely. We have vehicles that can store all of these goods and we will transport everything away, so we cover every aspect of the garden waste clearance job.
How We Help with HA0 Garden Waste Removal
We can see to every type of job of this kind, including patio clearance. This ensures we can help as many people as possible with their HA0 garden waste removal. With us doing all this, we ensure that the job is done well and that you can relax while your garden waste clearance is handled by the pros. Our staff are skilled and experienced and will be able to do the job swiftly and safely. Our teams have handled this work many times, so they are familiar with different types of rubbish, types of gardens and problems that can occur. This guarantees that things will go smoothly and successfully. Our support is flexible and affordable, so you get the best experience.
Helping Your Garden and the Environment with Expert Wembley Garden Rubbish Clearance
We are adamant that the Wembley garden junk collection service we provide for you is as green as possible. We take all measures to ensure that the work we do not only does not damage the environment, but also helps it. We do this by recycling as many goods that we collect from our customers as possible. We will take their unwanted items and see if they can be reused or made into something new. Act now and call

to learn more about our garden junk removal services. We work with various organisations and firms in HA9 and ensure that the job is done safely and legally, as well as you get the best results for you and the Earth.
Saving Money on Expert Support from Our Wembley Garden Waste Removal Team
Your garden waste removal in HA0 is a guaranteed success with Rubbish Removal Wembley handling things. We will provide all the support you need and that too for affordable prices. We will give you a no obligation required quote when you call us on

. We will give you an estimate that will reflect the support you want for us and a price you can afford. You can look at several deals and do not have to be tied down to any until you are satisfied. We will ensure the best garden clearance in Wembley at the best value, so get in touch with us now to learn more.